Stories
How I Found a Threesome Thanks to a Lucky Rabbit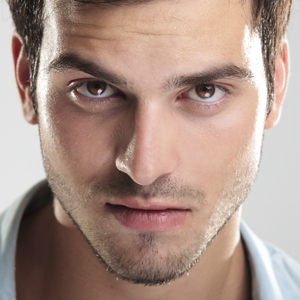 This is going to sound crazy, but I think I bought a magical rabbit at the thrift store. It's a porcelain rabbit, made in China, with blue flowers covering its white body. It is somewhat tasteless, but at the same time amazing.
Anyhow, there I was walking it to the cash register, cutting down an aisle filled with flowerpots and candlesticks nobody could ever possibly want to buy when I came face to face with this cute lady, carrying a straw basket. She smiled with delight when she saw my rabbit.
"I see you have a basket, and I have a rabbit." I said. "This must be some kind of message from the universe." We laughed about it, and she told me there were some interesting birds in another aisle. Before I knew it, we were wandering all over the store, looking at things, talking about stuff. Turns out she liked to collect crap, like I do.
She invited me to come see her collection, and I ended up staying for dinner. Her roommate came home, and we all drank red wine, put on old records, and danced in the kitchen. My porcelain rabbit sat on the table, watching. We danced, and then we contact danced, then we all made out, kissing and caressing, not in any way that was discussed in advance. I'd say we fell into it naturally.
I slipped out at about three in the morning, walking through the wet fall streets, holding my rabbit by the ears.
"Hey," said a voice as I walked past a darkened bus stop. "I like your rabbit." I stopped and said thank you. A face leaned forward into the light. It was another attractive lady, sitting there, waiting for a bus to go who knows where. We got to talking about my rabbit, and had a few laughs about this and that. I took her number and went home.
I sent her a text, with a photo of the rabbit beside my bathtub. I want it to be a watcher, and to guard the bathroom like a benevolent animal spirit. Two days later, the lady from the bus stop came by. She and I laughed about it in the bath we shared together.
I'm pretty sure this rabbit is magical. I never assume anything, but for a guy looking for female companionship, this little bunny has been a hell of a good luck charm.
Tell us what you think!